Version 2.0 by John_Spartan and Saul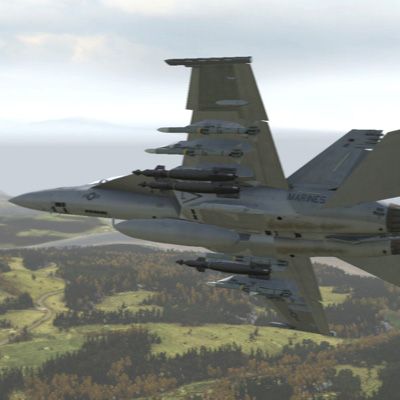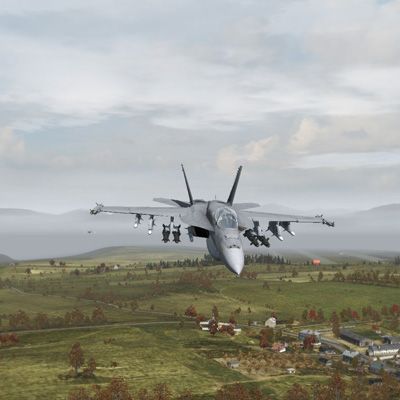 [F/A18 F over Chernarus, screenshots by Kanti_OM]
INTRODUCTION
The Boeing F/A-18E/F Super Hornet is a twin-engine carrier-based multirole fighter aircraft variant based on the McDonnell Douglas F/A-18 Hornet. The F/A-18E single-seat and F/A-18F tandem-seat variants are larger and more advanced derivatives of the F/A-18C and D Hornet. The Super Hornet has an internal 20 mm gun and can carry air-to-air missiles and air-to-surface weapons. Additional fuel can be carried in up to five external fuel tanks and the aircraft can be configured as an airborne tanker by adding an external air refuelling system.
PROLOGUE
ARMA and this community around this game has grown in last year's since I have been following it, giving us so much interesting stuff and information to play this simulator in so many different ways. And finally I decided to do some contribution to community of my own.
For quite a while I have been working on F/A-18 add-on so it can be used in ARMA 2 CO. When I started to work on F/A-18 my main goal was to make look like the vanilla in game aircrafts, so they share the same ammo, look similarly textured when put next to each other and use/share same functions that ARMA offers. During last year I have found a friend and a talented 3D artist assisting me on this project, also Franze mentoring me thru the development process helped to shape this add-on to a stage where we are now.
So finally here we are with current version 2.0 for vanilla ARMA 2 CO and ACE 2 mod. We have rebuilt the add-on completely. Together we have created a brand new model and Saul has created amazing set of HD textures. New UI and full customization off this aircraft is built in. There are still a lot of things that need a lot of work but it's already good enough to be used in game. Also since ARMA 3 is on the horizon, we would like to focus our next updates directly utilizing new game engine capabilities. ARMA 3 version is already in development as I am writing this manual, so please be patient on this matter.
THE ADDON
VERSIONS
This add-on represents real life F/A-18 E/F Super Hornet operators in various paint schemes/versions.
- ARMA NAVY GREY [F/A 18E and F/A 18F]
- VFA-14 "Tophatters" [F/A 18E, USN Pacific Fleet]
- VFA-41 "Black Aces" [F/A 18F, USN Pacific Fleet]
- VFA-27 "Royal Maces" [F/A 18E, USN Pacific Fleet]
- VFA-154 "Black Knights" [F/A 18F, USN Pacific Fleet]
- VFA-31 "Tomcatters" [F/A 18E, USN Atlantic Fleet]
- VFA-103 "Jolly Rogers" [F/A 18F, USN Atlantic Fleet]
- ARMA USMC GREY [F/A 18E and F/A 18F]
- VMFA-225 "Vikings" [F/A-18F, USMC]
- VMFA-232 "Red Devils" [F/A-18E, USMC]
- VFA-314 "Black Knights" [F/A-18E, USMC]
- ARMA RAAF GREY [F/A 18F, Royal Australian Air Force]
FEATURES
- New model for E/F versions
- HD textures, real life paint schemes in 23 versions
- Full control over aircrafts loadout with built in "Service menu" function
- User Interface to easily service aircraft
- Full realistic set of weapons models
- Afterburner
- Foldable wings
- Canopy animation
- Flares and radar warning system
- Fuselage vapour effects
- Fuel tanks/fuel drop sequence
- Aerial Refuelling from "buddy pod" of FA18F
- Master arms "SAFETY" feature
- Compatibility with ACE mod, GLT Missile box and upcoming Aerial refuelling Module by Feint
- GPS/INS system [only with GLT_MissileBox installed]
- Carrier landing and tail hook capability [with JDog's USS Nimitz]
- Full user customization built in
- OPFOR counterpart - Gnat's SU33D
PLEASE SEE FULL README FILE FOR DETAILED DESCRIPTIONS
CREDITS
ARMA 2 game engine:
Bohemia Interactive
Project lead:
John_Spartan
Author of original addon and concept:
Franze
Brand new model:
Saul
and
John_Spartan
HD textures:
Saul
Afterburner script originally by:
Lethal
and
Gnat
GUI dialog by:
John_Spartan
Config and scripts by:
John_Spartan
Advisers:
Franze
,
Gnat
,
Vengeance1
,
Iceman77
,
Rock
Special thanks' goes to
Don Welch
and
TF BLACKJACK
squad for help with MP/COOP testing, their advice on creating more realistic flight model and testing ACE version.
And of course all the community members for being so kind and posting valuable information/tutorials and solutions about how to mod this game.
END USER LICENCE AGREEMENT
DISCLAIMER
You are permitted to install and use this software for personal entertainment purposes only. This add-on is meant for ARMA 2 game platform by Bohemia Interactive only. Any commercial or military use is strictly forbidden without permission from the author.
This addon is released under:
Creative Commons Licence
Attribution-NonCommercial-NoDerivs
for use in ARMA 2 OA version 1.62
DOWNLOAD LINKS
DOWNLOAD FROM WARGAME LABS
[thank's to GoodKill for hosting this mod]
DOWNLOAD FROM ARMAHOLIC
[thank's Foxhound, much apriciated]
Spartan out.