VERSION 1.4.8
Hello, I have updated the addon to version 1.4.8 :)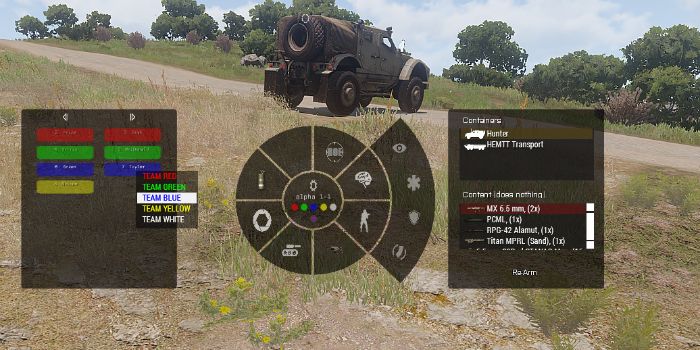 On the left you can see the new unit-selectors for the radial menu. To the right, you see the new context menu for the re-Arm function.
The new unit selectors have a huge impact on workflow. Assigning teamColors is now a piece of cake! But of course their main impact is the huge amount of flexibility you now have while using the radial menu.
The re-Arm function has also received an overhaul. LMB on the main re-Arm icon will open up the context menu where you can select a specific weapon holder. RMB on the main re-Arm icon will make the unit look for a suitable weaponholder themselves - although this is less accurate with multiple units.
Then there's a new 360-Security/Circle formation in HUD-MODE:
Finally, there's been a lot of "under the hood" improvements and first real optimizations. Many repetitive functions were bundled into Macros (if that's what you call that) and more are to come. Now that most of what I wanted is there, it's fun to make it a bit prettier and faster.
---
D O W N L O A D:
S T E A M
M E D I A F I R E
REQUIREMENTS:
CBA_A3
---
CHANGELOG 1.4.8:
ADDED: 360 Security || Circle formation added to HUD-MODE. Calculates min. radius for you. You can still increase spacing/radius (ctrl+mWheel) but not go under minimum.
Units can face in- and outwards of the circle. (change with mWheel)
Feature to be included into PLANNING MODE as well.[/*]

ADDED: Unit Selectors added to radial menu. Move your Mouse left of the radial menu to open the hidden display, then close/reopen with the small button next to it

Uses new button-type, background displays teamcolor. (will also be implemented into planning-tablet)
regular lClick selects indiv. unit
SHIFT+lClick selects all units from last to current selected (works in between different unit-pages)
Ctrl+lCLick adds/deselects unit
rClick opens teamColor selector (to close, select team or rClick anywhere)
>> assign teamColors in seconds!



ADDED: ReArm function split up and overhauled. Player can now decide where to reArm from (lClick on icon).

rClick on ReArm Icon will make AI look for best gearSource themselves.

ADDED: Reload-Animation added to adding/removing silencers
FIXED: Hundreds of codelines saved by creating broader functions. Better readability for both humans and the engine.
FIXED: Code Structure is now organized, most functions are now commented.
FIXED: Piles of Varnames renamed/tagged for better readability
Thanks to Kremator and W00fer for beta testing :)