Thanks for your patience. I've been mainly updating the BI Forum thread as I get faster community responses to my questions there. Those forums are down at the moment, so for those who haven't been following that thread, here is a quick update:
I was working on using satchels as underwater explosives. I got them to a point where they were working ok, but I was never happy with the game engine problems with satchels such as needing to spawn a hidden unit to detonate them. So I started trying to use mines instead and the results are closer to what I want. I made a reskinned mine to look like a limpet mine, and through some careful and complex math, I've been able to get the mine to attach to most objects and to sit correctly on that object. Recently, using playerCursor to figure out what the player is looking at, I've been able to attach mines to almost any object larger than any of the small objects including pier legs, boats, bouys, other units... :) Previously, I had been using nearestObject, nearObjects and other commands to find the nearest boat, but those commands are very unreliable and sometimes wouldn't find a boat sitting right in front of you because of the presence of other boats.
I've also converted most of my files to sqf formatting from sqs which took some time. I've learned a lot over this process and other things I've worked on such as the sniper camo changing script and the aerial refueling module have changed the way I'm doing some things on the underwater diving module. This delays things but also greatly improves things too (most of the time). Funny enough, the sqs scripting will give a better player experience for some things but the sqf scripting is easier for me to control.
Other improvements recently made are depth checks for player and AI divers which reduce the lifetime of bubbles depending on depth. That way, bubbles won't float above the surface of the water too much. Playtesting also revealed that sometimes the mines wouldn't explode depending on the angle they were attached at on a boat. So if you attached a mine to the front of a boat, it wouldn't explode when detonated. So I added some checks and an additional mine if the first fails to explode. All of that is hidden from the player and won't be noticed during play, but it would be noticed if I hadn't fixed it. ;)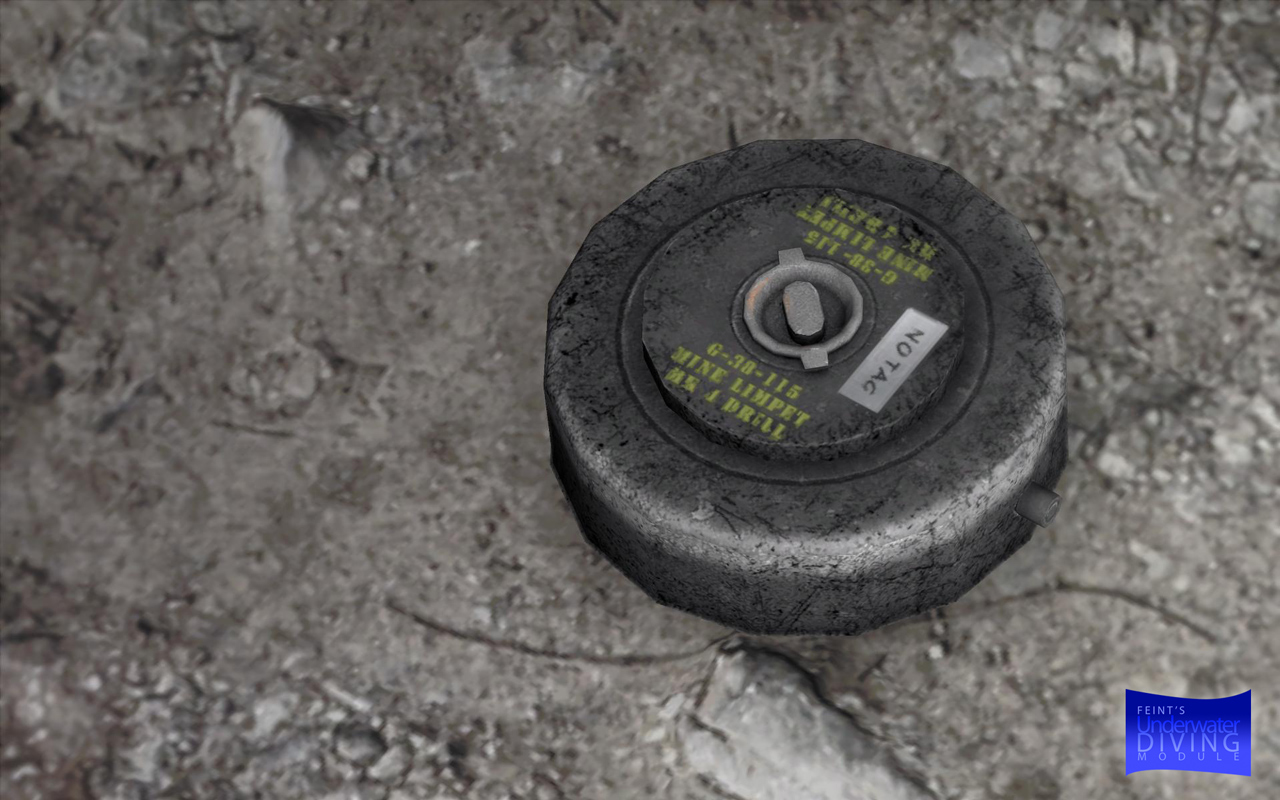 I discovered later in the project development cycle the commands getVariable and setVariable. Before, I was doing everything with declared global variables. This has probably been the most significant improvement to the project and has allowed me to get the AI to dive underwater individually and at the command of a player team leader and to get those AI generating bubbles which change with depth. I'm not entirely clear how global variables effect multiplayer, so for now, the module is still single player only, but it is a million miles closer to multiplayer than it was before.
Problema? Currently, I can't figure out the conflict I'm having between SAM handsignals and my module. Running both will disable both. It is something I'm sure I'll figure out by looking at the work of other people, but I don't want to release yet until I can fix that problem because I know a lot of players use SAM handsignals or the ACE version of that.
As for ACE compatibility, no idea. I don't currently use ACE, but would like to be compatible with it. But for me, it isn't going to delay me releasing if there are crippling issues because I know a lot of people don't use ACE too.
Other new features? I've got underwater flares working rather well. They fall to the ground if created above water and float if created on the water or under the water. They burn red light with bubbles for 2 minutes and you can replenish your supply of them at any designated dive gas refueling station.
You can replenish your dive gases, change dive gases and replace your dive computer battery at any object you run a particular refueling script on. You can lock in and lock out of gnat's submarines. There is a problem with AI doing this. I can't seem to fix it despite hours of trying. So for now, unfortunately, I've decided to disable the AI from locking in and out. :( The player can also launch a CRRC from a dry deck shelter off of the deck of Gnat's Los Angeles Class submarine. I don't currently have a DDS model, so I'm just using a small fuel tank which looks the same. Maybe I'll retexture it, but since there is no door on the front, I'm not sure if I should. It might just confuse people. I wish I could do 3D modeling. I've also created a dive light for player and AI. There are three modes: strobe, on and off. The emergency inflatible vest also activates it and resets it when you reset the vest.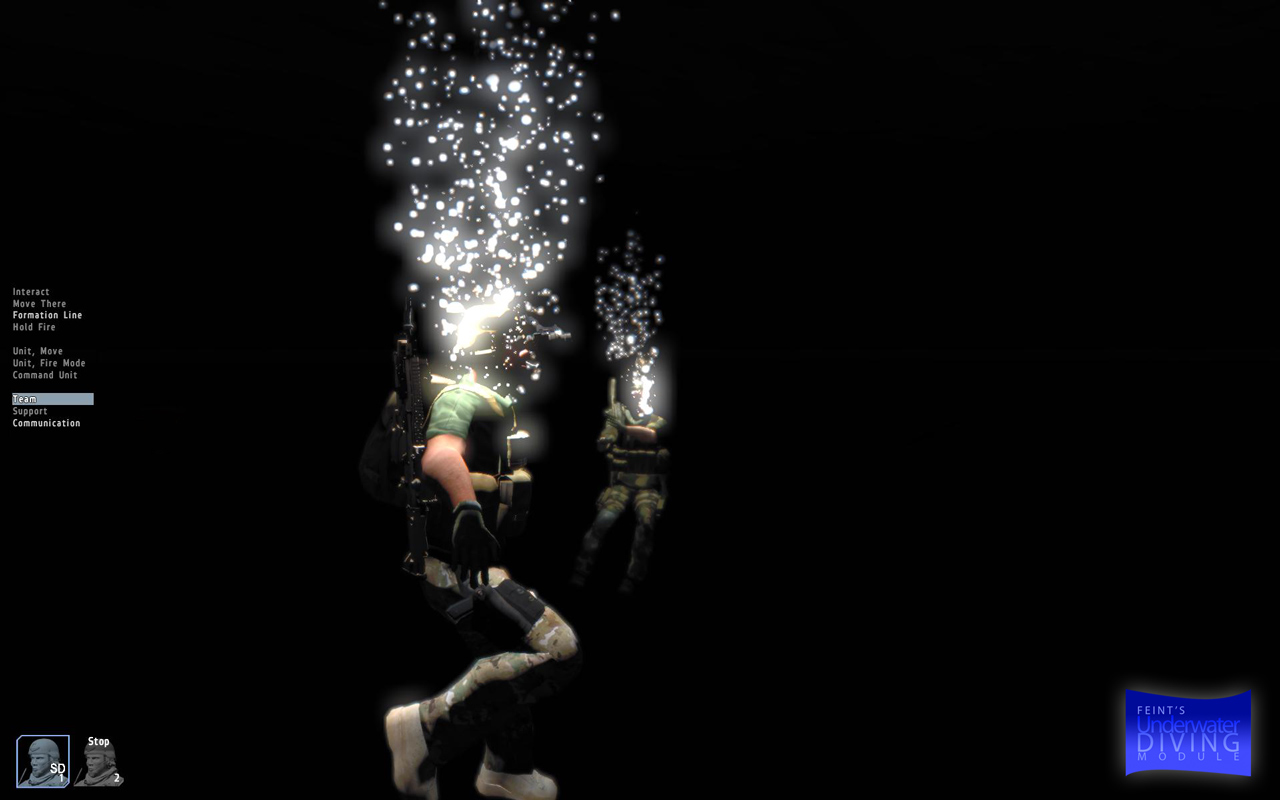 So what's left? I need to convert a few scripts to sqf, I need to test them, I need to troubleshoot the handsignal problem, I need to finish a demo mission or two, and most importantly, I need to figure out the closed circuit implementation that makes sense for players. I'm thinking, while at a refueling station, you can switch over to closed circuit. But I'm not sure that will be convenient for mission makers. Either way, I'm really hoping to release something very soon, so stay tuned.
Dive watch I'm thinking of including: