I made some Hind textures. Rather than tell you everything then include picture and links, I'll get down to business and put the pictures first. Then the info below the pics.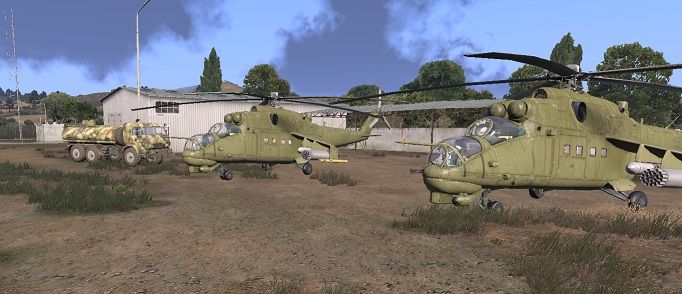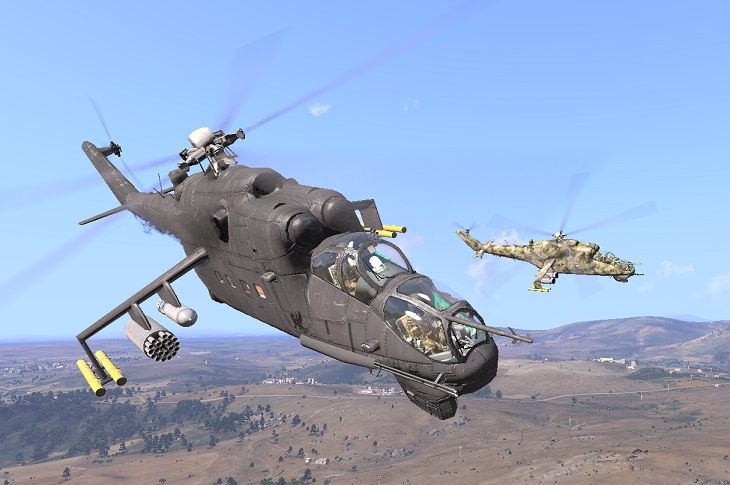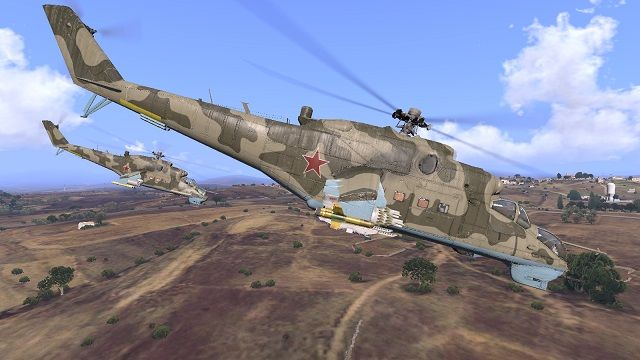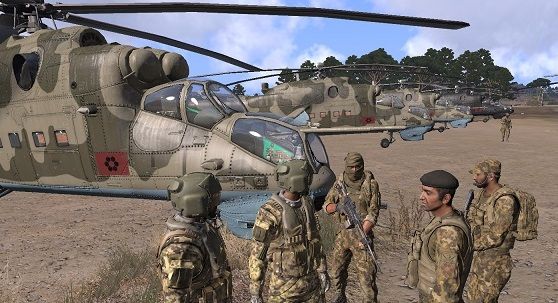 Download link:
http://www.filefactory.com/file/1rxdvfr2jgxt/HIND_TEXTURES.rar
A while after A3 came out, I was missing the Hind. So I basically did something along the lines of porting it into A3, but as A3 advanced, I gave up. I did, however, start making textures for them for when someone did port them over. I originally created them for AAF but couldn't stop. Now I have a few. They are basically complete, well, complete enough to release. They still need a little work but I don't know when I will have time to finish completely.
So here they are. I made 3 AAF and 2 Russian. I also put logos or symbols on a few to be used for other factions. Each Hind has a clean and dirty version (since a lot of you like clean) and each has an unmarked version so that any faction can have them.
*As a little side note, I tried using the CSAT Hexagon, but it just kept ending up looking like a giant flower. So I settled for a small flag. I wish bi would consider a new or different Logo that looks good on vehicles.
***Feel free to do whatever you want with them. Modders can put the textures in their mods, And anyone is free to manipulate them to their liking. If anyone wants a specific texture, just let me know. Once I finished the digital pattern that was murder trying to line up with all the crooked pieces and changing angles, the rest is easy.
**Even though including readme's have come close to extinction, I still chose to include one in the download. It gives all the information needed. There is also a mission that has all the textures on display. Chairbornes Hinds are required only for the mission.
There are a few mods that use Hinds, but one mod in particular doesn't work as well. I don't remember the mod, but all the textures end up extremely dark. Chairbornes hinds work well. I'm not sure of the others.
All have clean and dirty versions:
AAF digital
AAF green - I'm finally getting used to that terrible green color
AAF gray
Russian Black
Russian Camo (Atis friendly colors)
Black with CSAT flag logo
Black with CSAT lion/sun logo
Camo with CSAT flag logo
Gray with Griffin logo
Black unmarked
Camo unmarked
Green unmarked
Gray unmarked
In case you missed it, download link is below the pics.