Right. Reporting back in.
I've done some tests with the AI and the wall.
Mixed results, though as good as one could hope for I suppose.
I tested with a group of infantry, a group of mechanized infantry and some humvees on the side. Unless stated otherwise wedge formation was used.
On all accounts: If you put waypoints close to each other on each side of the wall (the blue line in the picture) the units will get stuck at the wall. However, if you put your waypoints a little further from the wall (the red line) then the cars have no problem passing the walls even in combat behaviour. The infantry however had some problems getting everyone through the gate when in combat behaviour. On safe behaviour there did not seem to be a problem with the infantry. And of course there are no problems when you micromanage the waypoints.
EDIT: I should propably note, that only the two-lane road in the piture has a gate, the others are sealed off.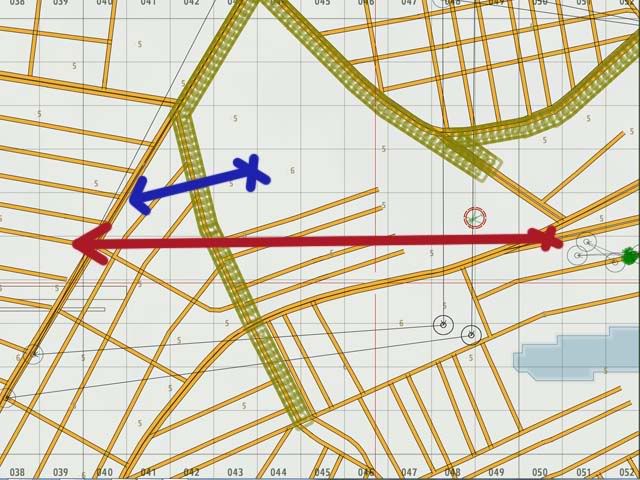 When commanding a squad by myself, I had a hard time getting my AI group through the gates in wedge formation while in combat behaviour. Combat behaviour was not a problem in the diamond formation. On safe I had no problems at all.
I guess that is all pretty much as could be expected. Personally I kinda like it that way, as there are also potential benefits of the AI restrictions. To me the purpose of the wall would be to conduct operations out of, and into the green zone. I dont really see myself in a scenario where the above limitations would be a problem. On the other hand, I kinda like that the wall keeps dismissed soldiers and civilians in the green zone from wandering into the city. I have thought of having seperate civs for the green zone and the red zone. This would make it easier to make the environments inside and outside the wall seem more distinct. Also it keeps potential renegade opfor AI from running loose in the safe zone.
It is a relatively large section of the map to wall in. I just think it really gives it that Baghdad feel (not that I have been there). And it opens up some cool opportunities like doing FOB Prosperity, which would propably be awesome with the new palace object in OA.