One of the only Australian communities running as US army and USMC, with a vast range of mods to make the experience as authentic as possible, and custom hybrid training courses suited to ArmA3.
Other factions run in ops: ADF uncut, Russian Army, and Private Contractors.
Web: www.160th.net
Steam:
http://steamcommunity.com/groups/160sor
Teamspeak Channel: 58.162.141.76
Written on 2014-04-17 by Narce6
Advertisement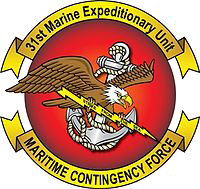 The 31st MEU is a Tactical Realism Unit created on May 29th, 2013. We as a unit have prepared, and continue to prepare a realistic, and authentic experience for our members. In this unit you will find a number of things that others may, or may not bring to the table. We operate in dedication to the real Marine Corps, their proud heritage, and their strong men and women that serve, have served, or passed in service to the United States of America. With such a strong dedication to our current, and past veterans, and those inspiring to become a member of the US Military one can find a mature, and confident community. We offer all who respect our rules the ability to play on our Recruiting Server. Those interested in becoming a member of the 31st MEU should look into enlisting. One may do this via our forums which you can find by following the link to our website.
http://31stmeu.org/
Speak with one of our recruiters on our TeamSpeak if you have any questions!
ts43.gameservers.com:9255
1stLt Mitchell
Aviation Combat Element - CO
31st Marine Expeditionary Unit
The 31st MEU is a ArmA 2 CO realism unit. Our Main focus being the Mod: ACE.
We are a unit that strives on the fact that if an operation is not fun, we won't play it. As much as a realism is supposed to be strict, we focus on keeping the members happy rather than keeping Command Staff happy, because what's the point on playing together if we're not happy with each other.

We have trainings on the weekend at: Fridays 1600 EST | Fridays 2100 GMT | Saturdays 0800 AEST
And we have operations on the weekend at: Saturdays 1600 EST | Saturdays 2100 GMT | Sundays 0800 AEST

We currently are striving to raise the backbone of our unit by increasing the size of the Infantry, so if you're a Grunt looking for action go ahead and enlist, but with Infantry comes supports, so if you are any good at flying a helicopter, driving, gunning or commanding a tank, then go ahead and get the head in the game too!

_______________________________________

We are looking for people who can:
Be Mature
Know the Basics of ArmA 2 (If you don't, do not worry, we got some guys to teach you!)
Be able to speak English
Older than 15 (But if you are not, if you can prove to us you will be mature with the time in the unit, then you can do so, but you must be at least 14)
Have or plan on getting a working microphone
Have a Working ArmA 2 and ArmA 2 OA Copy (Or ArmA 2 CO)
Not be BattleEye Banned
Have a working copy of TeamSpeak 3
Commit to the 31st Marine Expeditionary Unit
Be Trustworthy
Make our Training and Event Times

We do run ACE/ACRE if you are completely new to those mods!
We have a special course set up to teach you the basics and get you on your way.
We have tech support set up to help you installing your mods!
_______________________________________

Our Teamspeak3: 192.223.28.227
Our Website: 31-meu.enjin.com

_______________________________________

LCpl Farmer
Misfit 1-1
The German Coop Community invites all German speaking Community members to take part in our large "GeCo" Coop Night.
German Coop Community ("GeCo") invites all German speaking Community members to take part in our large "GeCo" Coop Night.
First let me say that this COOP Night is aimed at German speaking players only!
We had to make this very tough decision to make sure that there are no communication problems during the game.
• Teamwork
• Exciting and constantly varying COOP missions
• 20 + player
• No registrations / registrations / reservation / presence duty
If you want to know more about "German Coop Community", visits our
homepage
.
The aim of the "GeCo":
To show to players, to Freelancers and beginners what is possible in ArmA2 in the COOP mode .
Without frustration and without obligations. No Mods are used, Join in progress is possible and no registration is necessary.
We are glad to see you then!
What is Special Operations Command Australia (SOCA)?

Special Operations Command Australia is a realistic Australian Army Unit that forms the abilities as a regular Infantry unit will or any type of Corp that is needed in a operation. We follow many rules with Australian Army Laws such as chain-of-command, harassment laws and more. Special Operations Command Australia has good committed members and has fantastic leaders that have served in the Army to teach others what they know about field combat for SOCA. This unit communicates greatly with its members and new recruits who are very welcome to the unit.

ARMA III Company:

In ARMA III we focus on using real life military tactics used by the Army every day, thanks to some certain members have experience in that area of work. Using certain mods we make the game the most realistic and challenging it can be. We also use a rank structure almost identical to the ADF to once more further the realism aspect of leadership and position of the members of SOCA.
We have training and operations every week keeping players guessing what we will be doing next. With everybody having a fair say on what operations could be, it makes it very fun to see your hard work to pay off.

What you expect to see in SOCA with ARMA III:

Special Operations Command Australia strongly follows mate ship, teamwork, courage and initiative in the unit to keep all the members happy and enjoying their time in the unit to get the bond of brotherhood. Mutual, respect, the ability to work well, productively with others and following the chain-of-command is a requirement for SOCA. most new members will be amazed by the training programs and operations that SOCA do on the field to keep new member minds open to see how it feels to be in that spot as a rifleman or a leader.

Special Operations Command Australia does follow the Australian Army Rank structure with NCOs and Officers. To get a promotion with SOCA you need to show that you have encouragement, teamwork and leadership to get officers impressed or amazed by your efforts to other members (nothing to do with kills or amount of time you be with SOCA). Each rank has a different roles and high ranking officers or NCOs will teach you how to play that role on the field such as a Lance Corporal you need to keep the section/squad at the ready and keep the back safe in the section at all times while a Corporal is leading the whole section/squad through the scrub/terrain. With all training in SOCA we teach new recruits every possible thing they need to know about formations, tactics, field signals, Radio communication/Sig Comms, navigation, Rank structure (who you need to call what in other words), leadership and more if new members request to be Armor Company's, Artillery Company's, Supply Company's, Engineering Company's, Medical Company's and Air Force Company's (We have some members who know how to lead each type of company and teach). We give ever member a chance to say or request a type of role in the company to test their skills with that role and show officers that this member can be this type of role for future operations.

Becoming A Soldier in Australian Special Operation Command with ARMA III:

Enlistment is the first objective you must do to become a Recruit in SOCA. You will head on to basic training which training officers will be teaching you Rank structure, navigation, call signs, marching in rank, medical, section commanding and most theory structures. After you know basics in SOCA you will then head on to field training which most members enjoy learning formations, tactics, fire range safety with weapons, field signs, camouflage concealment, movements on the field, live fire exercise, breach-and-clear exercise, convey movements and formations and more. All these skills and knowledge will build up your minds attention and strength to become a soldier in the SOCA. Once you have completed training you will be commissioned too Private.

Interested in joining the Special Operations Command Australia?

First you need to jump on our teamspeak 3 server (soca.teamspeak3.com) and find a recruiter, the friendly recruiter will then guide you through the process of joining SOCA.

REQUIREMENTS to join Special Operations Command Australia in ARMA III:

ARMA III (Can be found in Steam or game stores)
Our customised mod pack
Headset/microphone working
Steam installed
TeamSpeak 3 installed
Age 17 and above (16 if you can show that you got the skills)
Respect, maturity and responsibility

Training:

Training nights are every Wednesday at 7:00 pm Australian Eastern Time (GMT +10)

Operations:

Operations are performed to ensure that training gets implemented including the formations and tactics practiced and taught in training, so that we can perform at our best!
Every Sunday at 7:00 pm Australian Eastern Time (GMT +10)


TeamSpeak 3 Information:

Address: soca.teamspeak3.com
Channel: Recruiting Office – ARMA III


Special Operations Command Australia Officers:

For more Information or want to contact one of the senior members please come on our site Contact us:

Or if you wish to email please do so here:


Or if it is taking to long for a response please add one of the Officers on steam.

Lieutenant Colonel. Dignam - Officer in Command of SOCA
Steam: Digo

Major. Brimmer - Second in Command of SOCA
Steam: brimmer_boy

Lieutenant Parry (ARMA III Commander)
Steam: Alphafight97

Sergeant Kuhn (ARMA III Infantry Commander)
Steam: Johnny Bravo

Sergeant Dave (ARMA III Aviation Commander)
Steam: Kneebs

Lance Corporal Fahler (ARMA III Mechanised Commander)
Steam: Maxibon
Advertisement
Hello, let me start out by introducing myself, in-game people know me as Giorox and i'm the leader and founder of the group AAG.
AAG is not a clan per say, but we are more of a group of people who get together to play on opportune times. We look for mature (we say mature, but that doesn't mean age), yet laid-back members who are willing to come together to play Arma 2/OA and even Arma 3 either in Coop or PVP/TVT modes.
AAG is not an old clan, being established in the beginnings of 2012 though we are willing to grow and mature as a community. (:
Now you might be wondering, what does AAG stand for or even mean? AAG is our abbreviation for Amphibious Assault Group. Though the name might seem like something super serious and tactical, we are more laid back and aren't as rigid. We are of course tactical and professional on some things as those are really fun, but we also play with Arma's engine which allows us to do many a goofy things aswell.
IF you like what you reads or just want to join, then just send us an application via our website
http://aagace.enjin.com/home
or get on our TS 37.59.52.51 and we will be in touch provided we get all the necessary information.
Here is one of our operations we were recently involved in:
https://imgur.com/a/M1kL4
A few requirements:
Must be 14+ years old (only exception are members in before this change)
Have a mic
Have Arma 2 and Arma 2 OA (legitimate copy)
Attend training and missions every so often. (atleast once every 2 weeks)
Be able to make our time-schedule, we base it off GMT.
Be active. (If you intend on joining and then not showing up you need not apply)
See you all soon.
Written on 2014-04-12 by Giorox
________________________________________
Ts3: tsatl1.vilayer.com:9999
Server: 199.116.118.205:3102
Our Website
Youtube Channel
________________________________________
Introduction
Welcome to Craft International, A Private Military Company clan for Arma 3.
We are a community of gamers who love realism, strategic combat, and unique missions that Arma 3 has to offer. We fight side by side like brothers similar to military realism unit clans, but we bring in the PMC aspect of things to offer a much more enjoyable experience. This allows any contractor to utilize any means necessary to complete the contract weather it is by sniping, shooting, driving, and or flying.
Requirements
Before joining please make sure you meet the minimum requirements.
16+ years old
you must have a working Microphone
Must be mature
You must remain active

How to join?
In order to join all you need to do is fill out an application. You may do so by clicking our
Application
link. You may also find this in our recruiting tab on our website. After you have submitted the Application form please download and install our required mods from the main page of our website. If you need help with this process jump on our teamspeak server and members will be glad to help you.
-Blackbeard
Buffalos Tactical Squad is a squad of special forces anti-terror for the UN. It has some of the best former members of special squads of the world as SEALs, Sayeret Maktal, The Kaibiles, among others.
The squadron currently operates on the island of Altis in order to restore the local order which is under constant terrorist attacks and oppression of Canton Strategic Alliance Protocol Treaty.
BlackEagle's looking great soldiers to give everything on the clan to fight against other clans! seek recruits entailment period is open to all the public and players Arma 3! Join the training to see if you can earn a spot in the blackeagles! to be a new clan the first 5 players to send their data to pass through the training period of 2 weeks!
RMCC Clan is now recruiting
We have our own dedicated servers/teamspeak etc.
Check out our website!
www.rmcc.tk
Also want to know more? Check out our Youtube Channel!
https://www.youtube.com/watch?v=P9vmjwtF7BM
Our rules are pretty relaxed and no strict attendance requirements. We run weekly joint operations. We also have our own mod pack that has Guns, Uniforms etc; we have all kinds of fun stuff to play with!
We have open missions throught the weeks and we also do some operations with the 7th Cavalry. We are a small group but growing! We are more like a brotherhood we work together and like to have fun! If this all sounds good to you them RMCC is the place to be!
Want to join? go onto our website or add me or these people on steam!
enjustin
or
[RMCC]Beast
or
[RMCC]Derek
Polls
Online