Deadfast's Chroma Key Wall
MP Compatible:
Yes, required by all clients
Signed:
No (not really needed)
Requires:
ARMA 2, ARMA 2: Operation Arrowhead or ARMA 2: Combined Operations
I've had this thing lying on my hard drive for ages and figured some of you graphically talented folks could find it handy.
As the name suggests this is a series of several colored backgrounds that form a cube when pieced together. Each modular segment is 30x30x30 meters and by placing them next to/on top of each other you can create cubes or blocks of various sizes. You can also use the supplied module (see
How to use
section in the readme) to do this for you.
It is intended to be used with the
chroma key compositing
process, also known simply as "bluescreen".
A much more common use will probably be cutting out the background from behind models using the magic wand tool in Photoshop or GIMP as seen bellow: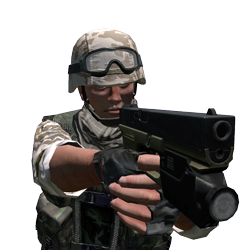 Available colors:

Blue
Green
Magenta
Custom via setObjectTexture:
Place the following line into the wall's init line:

this setObjectTexture [0, "#(argb,8,8,3)color(R,G,B,1)"]
...where R, G, B are the the red, green, blue values / 255 (255/255 = 1)
Available modules (F7):
Deadfast's Chroma Key spawner
Available units (F1):
Empty

Deadfast's statics

Chroma key background - Ceiling (blue)
Chroma key background - Ceiling (green)
Chroma key background - Ceiling (magenta)
Chroma key background - Corner (blue)
Chroma key background - Corner (green)
Chroma key background - Corner (magenta)
Chroma key background - Floor (blue)
Chroma key background - Floor (green)
Chroma key background - Floor (magenta)
Chroma key background - Wall (blue)
Chroma key background - Wall (green)
Chroma key background - Wall (magenta)