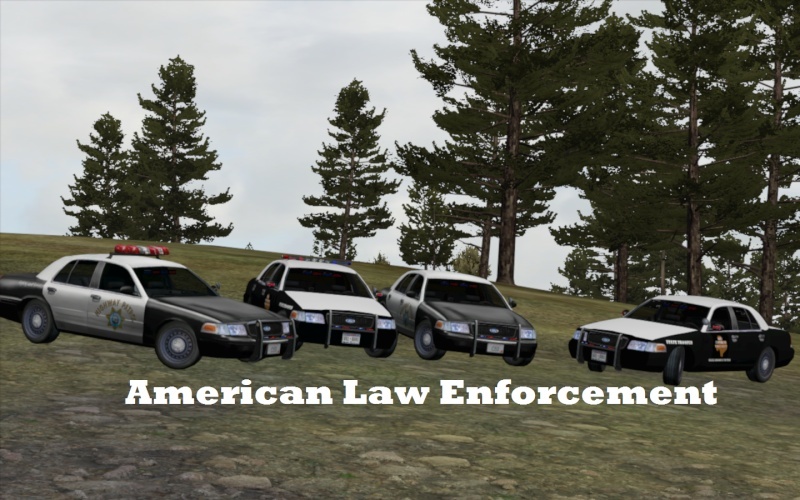 American Law Enforcement/Civlian Vehicle Pack
Description
This is the alpha release of an American Law Enforcement and also in the future Civilian vehicle pack. This release will only contain 4 variations of the 2007 model Ford CVPI, California Highway Patrol, CHP Slicktop, Texas Department of Public Safety, and TDPS Slicktop. The vehicles feature working emergency lighting and sirens that are multiplayer compatible. Aswell as radio chatter when you enter the vehicles.
Models include
-Vector Lightbar
-Whelen LED/Strobe Lightbar
-Deck/Dash Flashers
-Arrowstick Directional Lightbar
-Pushbumper
-Grille Lights
-Radio set
-Lights and sirens control panel
-Prisoner Transport Cage
-Shotgun on inside gun rack
Known Bugs
-RVMATS not functioning correctly
-Ambient Lighting not functioning correctly
Disclaimer
By downloading or having any part of this addon in posession you agree to the following
You are not allowed to edit, change, use or modify any part of this addon without the direct permission
from one of the 3 original authors. If change is made or the addon is used in any mod "with permission"
credit must always be given to the original authors listed in the credits area.
Credits/Thanks
Model- Killerc22, 3d_Garden, Coldfuse, Offroader23
CFG- Killerc22, Coldfuse, Blondak (Qinetix)
Scripts- Coldfuse, DaChevs, Dead3yez, Armatec, Killerc22
Textures- Killerc22, Coldfuse, Blondak (Qinetix), 3D_Garden
Sounds- Blondak (Qinetix). Coldfuse
Special Thanks- I.M.G, Armatec
Regards,
-Killerc22
-Coldfuse
CONTACT INFORMATION
-killerc22@gmail.com
-coldfuse18@gmail.com
Download
http://www.mediafire.com/?jxf9z3z9z6ju6by
Later Releases will start to include the following into the pack.
Crown Victoria Police Interceptor in the following variations
CHP
CHP Slicktop
Unmarked Black
TDPS State Trooper
TDPS State Trooper Slicktop
Regular Crown Victoria in the following variations
Stretch Limo
Fruit Loops Pimpin on 24''
Spongebob Pimpin on 24''
Regular Grey
Regular Black
Chevy Tahoe Police Interceptor in the following variations
TDPS State Trooper
Unmarked Black
Unmarked SWAT Transporter
Chevy Tahoe in the following variations
Regular Black
Regular Grey
Regular Green
Regular Red
Regular White
Other Vehicles
Dodge Charger Police Interceptor Stealth
2009 Ford Mustang GT
Harley Police Motorcycle
Chevy Suburban Police
Armored SWAT Troop carrier/deployment