# Reisdal : Don't have an answer but i love what you do! It will be awesome to be able to be a swedish attackdykare ;).

IF you manage to get the vehicle right and IF you're able to get this SDV in the mod, Could you script so maybe an CRRC can be deployed from that vehicle?

Just a thought and not a request. Keep on going. Looks awesome!

FYI, there's an addon on this site that allows you to pack and then deploy a CRRC. Once you deploy it, you can position it wherever you want and then you can release it into the water or wherever. It's called
O'Halley's Boats
.
Added 24 minutes later:
UPDATE:
I was able to completely change the way I was handling the air and depth and how they were related to each other. Now the way air is handled is exactly how it is in real life (for open circuit traditional scuba diving).
The way I originally had it was:
breathing time = available air - some air over time
The way I have it now is:
breathing time = (available cylinder pressure * cylinder volume) / (rate of air consumption at surface) * (ambient pressure)
In other words, the deeper you go, the less time you have to breathe your carried air because the deeper you go, the deeper the breaths that you take (regulated by the regulator). It's complicated if you have no experience with scuba diving (like me) but I'll make a tutorial which hopefully will explain the concept. Basically, you can be swimming at 5 meters and have 124 minutes left of air. But if you dive down to say 50 meters, that same amount of air will only last you for 20 minutes. And if you are down there at 50 meters and you only have 5 minutes of air left, you can ascend to 10 meters and have like 50 minutes of air to breath. I'm just throwing fake numbers out there, but hopefully you get the idea.
I've also set up some user-settable variables:
starting air pressure (in bars) - simulates partially filled tanks
size of cylindertanks (in liters) - simulates different tank sizes and number of tanks
battery level - once it runs out, the diving computer won't work
unlimited air setting - if you don't want to bother with scuba diving details, you can just swim around
SCREENSHOTS:
Here you can see the new and improved SCUBA MODE (not to be confused with the REBREATHER MODE) which measures gas cylinder pressure as well as remaining air time. There are also indicators for partial pressure of oxygen (which is fixed in the scuba open circuit version of this addon) and a tissue loading bar graph (which is not implemented at this time).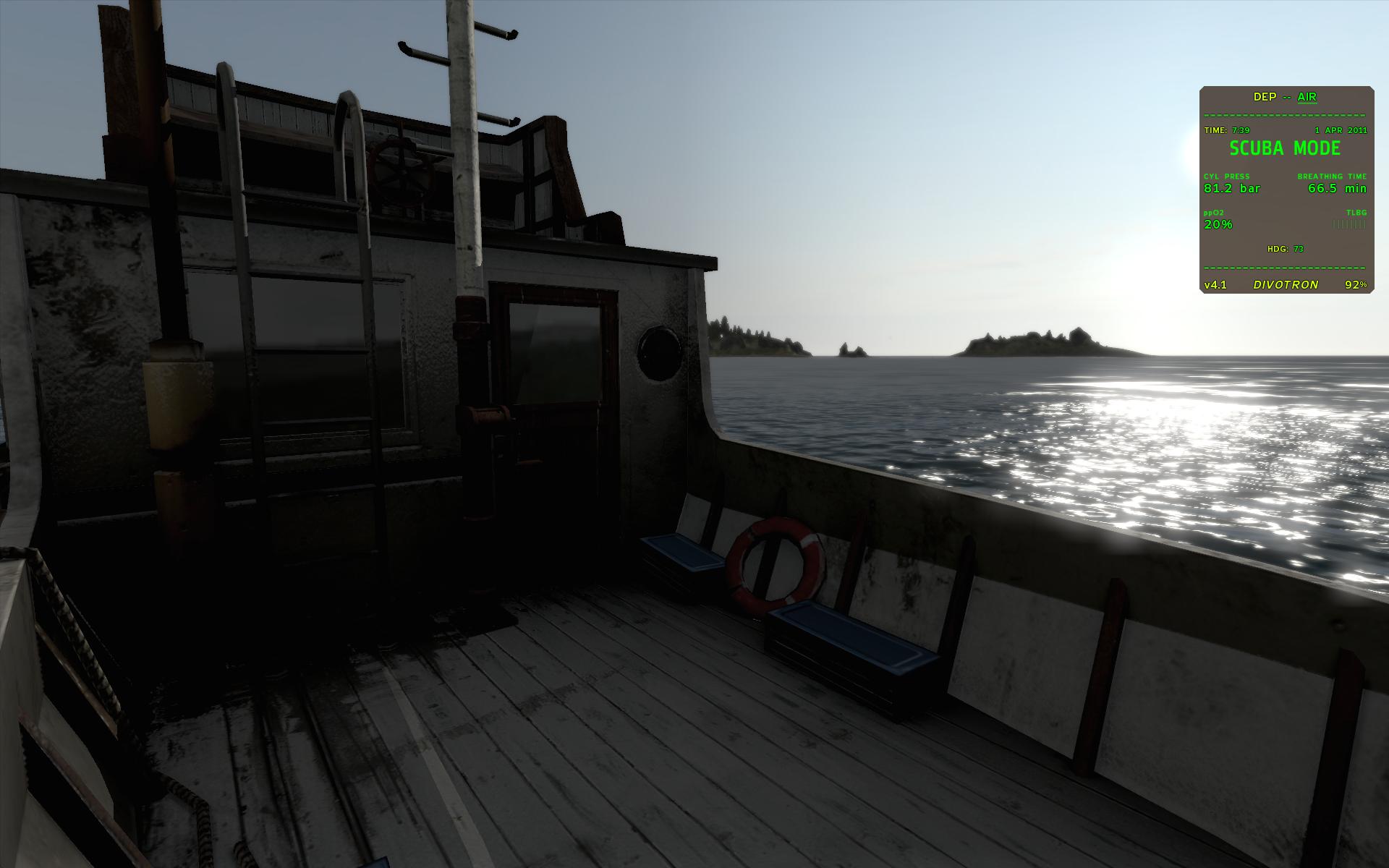 Here you can see the new DEPTH MODE which indicates depth, ambient pressure on your body, your maximum dive depth (which holds the number even if you start to ascend), and a decompression (deco) ceiling, also known as a safety stop. If you dive below 5 meters for any length of time, the DECO CEILING indicates that you should stop for five minutes at -5 meters in order to equalize to the lower pressures at sea level (if you plan to continue to the surface). So far, I've not implemented any "depth damage" caused by getting the bends (aka DCS), but I've not ruled it out either. If I do implement it, I'll probably have a way to turn it off if you just want to dive around with no real world limits.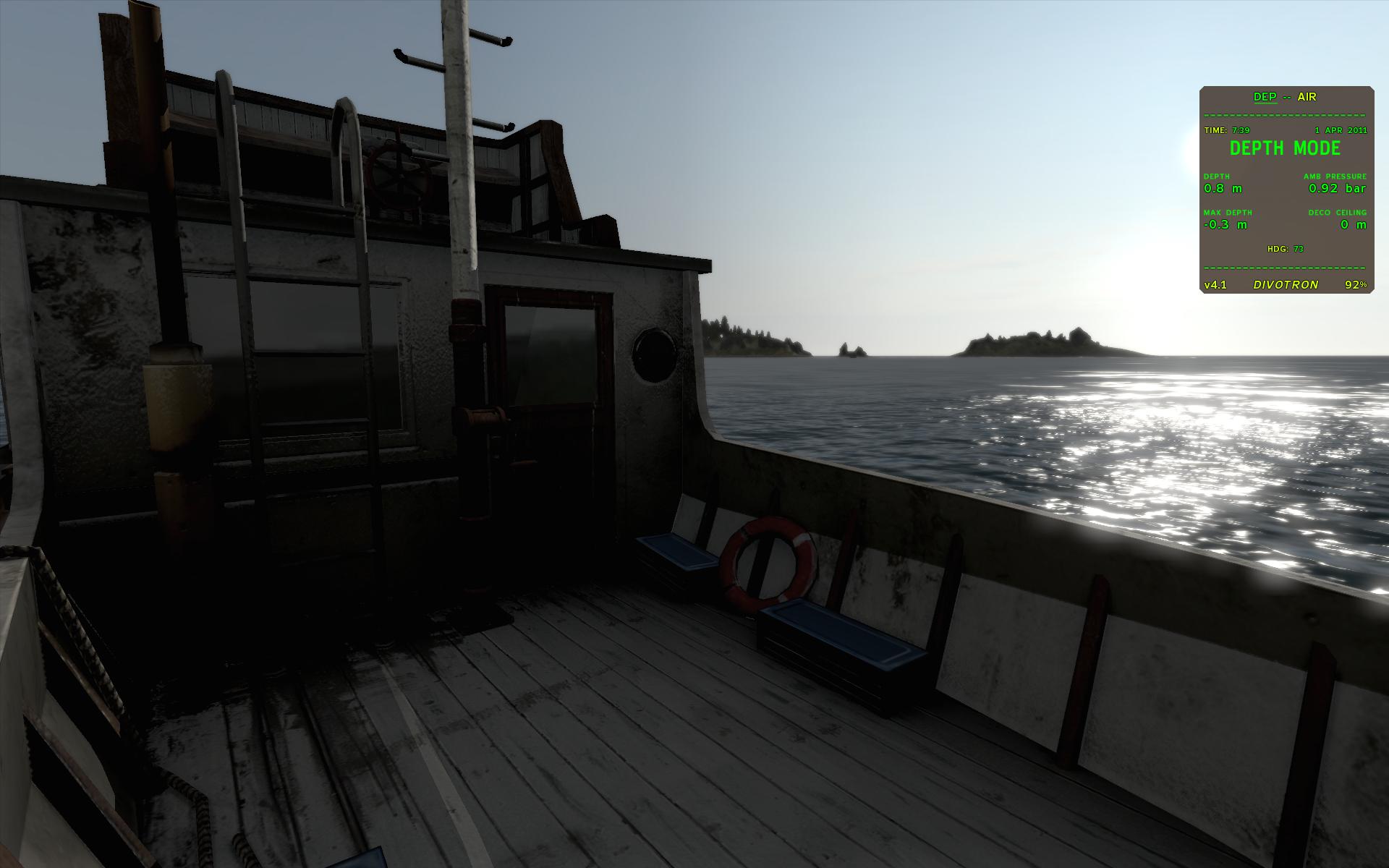 Sharp eyes will notice that I've eliminated the BATTERY MODE screen. I've just put the battery level on the other two MODE screens at the lower right side of each screen.
My intention is to make this as realistic as possible but still keep it fun. They say scuba diving is like 69 times more dangerous than driving a car or something. So I'm hoping to simulate some of those dangers, but allow players to not worry about any of that if they don't want to bother learning how to scuba dive.
Next step is to finalize a few more changes to the diving computer startup screens. Then I'd like to work on a rebreather version of this system. So that means I have to learn what I can about rebreathers (thank you Wikipedia!).
Added 5 minutes later:
Great job everyone on the models. Please keep in mind my previous post about limitations with using this system on vehicles. But it's nice to see new things!