Yes I should!
Playing all these COOP missions in SP is creating a permanent crease in my brain. Look at the elapsed play time in this shot, a real death march: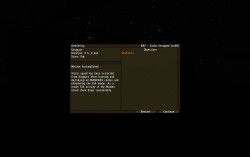 A very old problem with COOP missions in SP is shown in that shot, that tasks and score are not shown in debriefing if the original squad leader has died and you finished mission as another squad member.
The PMC Versus missions require razor-sharp reflexes to survive and win, unlike those of the poor AI squadmates. The other thing that kills SP play in COOP missions, even in vanilla A2CO +/- CWR2, is that, after team switching to a non-leader squad member, then back to leader, the other squad member will usually always have to be ordered to move and then regroup, or else he will stay frozen in place. This is not a huge problem in most COOP missions, but in PMC Versus ass-kickers with massive amounts of opfor, this kills immersion and makes things very difficult. So it is really an A2CO issue with COOP missions which is made worse by ACE, when even the player himself becomes stuck and immovable.
Here is another problem encountered when playing COOPs in SP, a problem that has made it all the way to Arma 3, but I only got around to posting it a month or so ago. I have not encountered this issue so far while playing the PMC Versus missions with ACE, but it is a common occurrence in A2CO and A3 COOPs.
http://feedback.arma3.com/view.php?id=15541