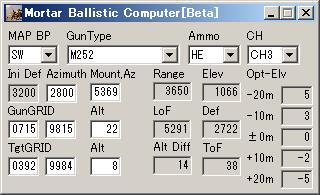 What is this?
Mortar Ballistic Computer for ACE2
Deflection , Elevation are calculated tool
Installation of .net 4.0 is needed.
Support Gun's
M224
M252
120mm Tampella
2b14
M119
How to use
1.Select MAP base point
What is MAP base point?
It is that is in which azimuth meant.
"SW" when "GRID 0000 0000" is lower left.
2.Select Gun type,Ammo type. Input Azimuth, Mount.Az(Aiming Post Azimuth), GunGRID, TargetGRID.
3.Change of CH will indicate Elevation,Deflection and ToF. Out of range, "O/R" indicate.
Note
When you use DPICM, illum, do TgtAlt added to Required Alt.
Tendency which fall to short. (Maybe, AceRangeTable from short. )
[Download]
Source files. Coding VB2010
At the last.
I'm Japanese. English is not its Good. so sorry :(
My Twitter
New Update Progress
Coming Soon.................?