Arleigh Burke-class destroyer movable ship with a bridge interior , able to drive and gun.(if can) A working flight deck with hangers and other interiors if possible.
History of the Arleigh Burke-class destroyer:The Arleigh Burke class of guided missile destroyers (DDGs) is the United States Navy's first class of destroyer built around the Aegis Combat System and the SPY-1D multi-function passive electronically scanned array radar. The class is named for Admiral Arleigh Burke, the most famous American destroyer officer of World War II, and later Chief of Naval Operations. The class leader, USS Arleigh Burke, was commissioned during Admiral Burke's lifetime.
The Arleigh Burke is an all round multi-mission destroyer that is one of the most used naval warship in the United states navy.
overall length of 505 feet (154 m) to 509 feet (155 m), displacement ranging from 8,315 to 9,200 tons.
Flight I: 90 cell Mk 41 Vertical Launching System (VLS),Tomahawk cruise missile
RIM-66M Standard medium range SAM (has an ASuW mode)[citation needed]
RIM-161 Standard Ballistic missile defense missile for Aegis BMD (15 ships as of March 2009[6])
RIM-162 ESSM (4 per cell) SAM (DDG-79 onward)
RUM-139 Vertical Launch ASROC
RIM-174A Standard ERAM added in 2011
1 × 5-inch (127-mm)/62 Mk-45 mod 4 (lightweight gun),1 × (DDG-85 onwards) 2 × 20 mm Phalanx CIWS 2 × 25 mm M242 Bushmaster cannons Torpedoes: 2 × Mark 32 triple torpedo tubes (six Mk-46 or Mk-50 torpedoes, Mk-54 in the near future)
a link to a side image:
http://www.alternatehistory.com/discussion/attachment.php?attachmentid=163671&stc=1&d=1325749975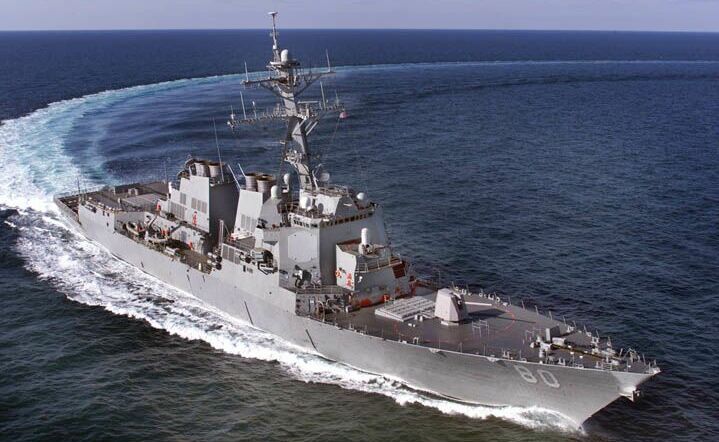 THE SHIP LUNCHES MISSILES ON THE FRONT AND BACK OF THE SHIP.
would love to see that.
references:
https://en.wikipedia.org/wiki/Arleigh_Burke-class_destroyer