[size=4]This was submitted as a news item to Armaholic. But its way to long for a news item so I post the complete info here, and a summary in the news!!
[/size]
Thank you for keeping the community informed and submitting your news to Armaholic!
Firstly Hello and a big welcome to the Project Reality ArmA2 Highlights Reel #1. In the same fashion as PR: BF2, we intend to keep the PR Community updated on PR: ArmA2. The last few weeks since announcing our Modification have been, in a word - Hectic. The response to the announcement overall was fantastic, and it already seems to have a good following, although a large update here, I hope this Highlight Reel entices more to the Community, and keeps those already following it up to date with our progression so far.

-
Team Update
Behind the scenes the Management Team have been looking to expand the PR:ArmA2 team. The response was very positive, with a healthy team in place we should now be able to move forward in other areas of Development. Our current team list below shows the commitment and dedication we now have with some very talented team members.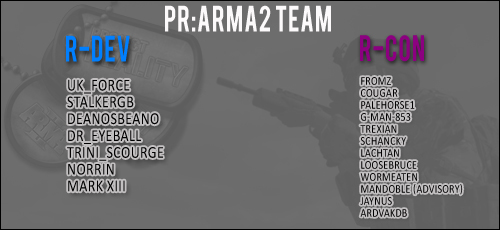 -
Current Ongoing Work
As we initially mentioned in our announcement, PR:ArmA2 will be a self contained and self developed Modification, and as you can see over the last few weeks the team have been hard at work both Developing and Brainstorming, in the form of both meetings, steering groups and general chat in our TS3 Server. Inevitably this has now provided us with work to do and here are some of the current things we are Developing. As you can see a lot of them will be Exclusive for PR, and are all being developed internally. All this work is actively under development however only time will tell if they all make v0.1:
PR Exclusive - Stamina / Weight System
Something we are looking at developing in a new way, however it will be based on:
1. the weight of objects carried in the player's inventory
2. location of the wounds (eg. legs)
3. level of blood loss, and;
4. the speed the unit was traveling eg walking vs running vs sprinting
The player would suffer - shortness of breath, hand tremor, very short black-outs. This is also being looked at for vehicles, which will affect suspension and speed depending on cargo, etc.
PR Exclusive - Medical & Wounded System
This is a big area however in short we are looking at a much more accurate and intricate health and medical care system than the one currently available in game. Units may fall unconscious if enough damage, pain or blood loss occurs – these units can be resuscitated - as in the real world with appropriate medical attention. Following resuscitation and depending on their injuries they may continue to take an active part in a mission or they may require CASEVAC and further medial attention.
PR Exclusive - Firing Personal Weapons from Helicopters & Vehicles
As we know it's possible already for UH1s, Blackhawks and APCs to use the attachTo command to shoot from them, although not perfect. We are currently looking at a much simpler system which will cover all platforms.
PR Exclusive - TS3 Plugin (Using British Bowman Radio Models)
Replacing the ingame VOIP and having a robust defined VOIP for PvP is very important to us, and we are currently working closely with the Developers of the TS3 plug in and our own sound artists to create a PR Version of this. Every soldier has short range capability and direct 3d sound,but they need a radio or vehicle for long range. The plan is to have a Personal Role Radio(PRR ) for the short range radio and a PRC 325 (HF) for the long range radio. Later we will look at having UCD's for vehicles and add medium range radio with a PRC 355/VRC 359 (VHF), as you can see the Bowman Radio Kit is pretty much modeled already.
PR Exclusive - RCON Tool for Server Admins
As the title suggests a dedicated set of RCON Tools for Server admins, this will be a god send and help them to admin the PR Server a lot easier. The tool will be customisable too. The Tactical Gamer community are currently helping with the development of this, and will be carrying out private testings of this tool.
PR Exclusive - Complete Sound Package
Sounds in PR: ArmA2 will play a huge part to the overall Mod, and we have drawn up a concise and complete plan for the overall Sound Package. In the short term we are looking at building Sound Environments for Afghanistan & the BIS Islands, an immersive combat ambiance (sonic cracks etc) and realistic Infantry weapons. We are also looking at the overall Voice sounds and how best to change these, we already have a pretty much completed sound file library for this.
PR Exclusive - PR_Atmospherics[Civilians]
The first of a number of PR_Atmospheric Modules. This initial module will be a framework that allows missions in urban areas to have AI civilians. These civilians are generally non-combatants, but may also provide cover for player-controlled insurgents. If dealt with too harshly by a team, the civilians may become aggressive - creating tactical complications for the mission, it will hopefully add to the gameplay by also being a "Combat Indicator", ie Bluefor noticing that civilians are leaving an area (Usual Signs of Taliban moving in). As the title suggest this will add to the overall "immersion" of the Mod, and hopefully induce tactical awareness, for both sides.
PR Exclusive - Gameplay
This is a very large area to cover however in brief the PR game play will include a comprehensive extended version of the AAS game mode, plus some other game modes too. With a new cargo and object handling system which handles a variety of transport methods, we open up the concept of logistics and supply. The armaments system helps provide a fair and balanced combat environment, by limiting access to the uncommon high powered expensive weapons and also makes vehicle combat far more effective. There will be a new squad management system to replace the common ones we've all seen. The concept of depoyable assets, such as firebases, will be further developed. Base deployment will provide a range of fair "fast travel" methods. All tied together with a new object interaction menu system to keep it organised. Further to that a new Insurgency mode is also being looked at and evaluated for future releases.
Mk7 Helmet / Panther / Texture Tweaks / Field Dressing / Desert Cam Nets / MAN Truck
These are all ongoing as normal day to day development tasks, we are yet to start on the Jackal and Mastiff.
Ongoing work on Afghan Island
- The ongoing work in this Department will take some time, as you would expect on a 25km x 25km Island. This will however prove its worth once complete, with different missions being played out on all areas of the island. So to that end, work continues on the Green zone area, including mud walls and buildings to suit our destructible structure system. This has been incorporated to best suit our game play. Although time consuming all valleys and outlying village areas are being manually sculpted to maximise island usage for the future.
- A Camp Bastion style Main Base in the south is being worked on to compliment some of our larger missions with helo transport, logistics etc.
- Even native plant/weed species for clutter and poppy fields are being added, to recreate the area as accurately as possible.
Project Reality Menu
For aesthetics the menu, background trailer, loading screens and general look of the default ArmA2 interface are being reworked to give it a cleaner, fresher look.
-
Beta Testing Update
Beta Testing started this week in earnest, with a focus purely on the Game play at this point. We now have the makings of a dedicated Beta Testing team in place and a test server, so finding those bugs will be their priority. You can still apply to become a PR:ArmA2 Beta Tester in the
tester application thread
.
-
Release Date
Due to the increase in the PR:ArmA2 Team, and the Development we have already started on, it is now looking more likely that we will not be releasing v0.1 until at least June / July. The main reason for this is being we have a lot of complex functions and frameworks in development that we need to implement to give us our core release. Not forgetting all of this will need further testing too.
-
Official Project Reality Servers
As previously mentioned, we always place a big emphasis on Server Admins, and in the next few weeks we will be getting in touch with Server Admins who have shown interest to assist us in developing a robust system and config. This will ensure the PvP servers are in a position to be able to provide the players with a solid and reliable Project Reality PvP server. A place where they can simply join in and experience populated servers, with first class teamwork and a unique gameplay style.
-
Become a PR Developer or Contributor
If you feel you have something to offer, or would like to be a part of the Project Reality Development Team, please do not hesitate to contact any of the team, or . 3D Modelers are particularly sought after by the team, and are a priority for us at the moment.
-
Show your support
If signatures are your thing, feel free to make use of our official user bar, if indeed you wish to display support for Project Reality.
So there you have it. Lots happening, and these are exciting times for the team. For further information please feel free to browse the
Project Reality ArmA2 Forums
and become more involved. The community is growing and there are some great ideas coming to the fore. We hope this Highlights Reel answers some of the community's questions. We thank you all for your continued support, and hope you will enjoy the future release .
- The Project Reality Team